Jessica Grim
Massage Therapist
Jessica has been a Licensed Massage Therapist since 2003 and brings 19 years of experience to Forrest. She is passionate about helping people relax, unwind, de-stress, restore and feel better in a way that is healthy for the body and mind. Her favorite treatment is The Forrest, our exclusive signature massage. It has everything! A 90min session allows time to concentrate on areas of the body that need extra attention. She also loves all things pumpkin no matter what time of year – there is no season off limits to enjoy a pumpkin spice coffee or a slice of pumpkin pie!
Davie Swartzentruber
Massage Technician
Davie brings a lot of heart and passion to Forrest with over 3 years of experience. She loves helping people with pain management, and decreasing their physical and emotional stress. Everything in the body is connected. Her favorite treatment is The Forrest! It's a perfect massage with the best smelling oils, hot stones and warm towels. For fun, Davie makes jewelry out of dried flowers and epoxy resin.
Hollie Adams
Master Esthetician
Hollie is a Licensed Master Esthetician, having received extensive training at Bellus Academy in California as well as an international esthetics certification in Wales. She is highly sought out to offer her expertise. She loves educating clients so they make the best skin care decisions for them. Her favorite treatment at Forrest is the Brighten facial because the AHAs in the exfoliant revive dull, textured, congested skin. Before becoming an esthetician, she was one of the first female Marines to step foot on Afghan soil when she deployed in 2010.
Dawn Marie Sears
Nail Technician
Dawn Marie loves helping clients feel confident and beautiful! She is creative and enjoys the artistry of nail design. She brings 11 years of experience and loves every minute of it. Her favorite service is the Forrest Pedicure because the extra massage, clay mask, and hot stones gives clients complete relaxation. It's no secret that she survives on sugar – she's always sipping on a Dunkin' iced coffee with caramel swirl, lots of almond milk and sugar!
Shannon Kenton
Nail Technician
Shannon loves to help people that physically cannot help themselves, and really enjoys helping people relax. Her favorite treatment is the Forrest Pedicure for that very reason – the hot stone massage is a relaxing addition to soothe away sore muscles. Her son is the light of her life and she loves spending time with him. She is a sweet and calming presence for guests and a great addition to the team!
Brianna Rodgers
Massage Technician
Bri cares so much about helping people feel better. It has kept her in the massage therapy field for over 10 years! Her favorite treatment is the Bamboo Massage, which provides the perfect mix of heat and pressure. Her goal is helping people feel better and bringing them comfort. She is a mom of two boys, loves animals, nature, staying active, KitKats and spending time with her family.
Morgan Henley
Massage Technician
Morgan has several specialties in massage (reflexology, bamboo, cupping) and brings 7 years of experience. Her favorite service is Reflexology because it's truly a relaxing technique that allows her the opportunity to help clear blockages through the channels of the body and promote healing. When she's not at the spa, she loves being on the farm spending time with her family and their animals. She says they love getting massages too, especially the horses!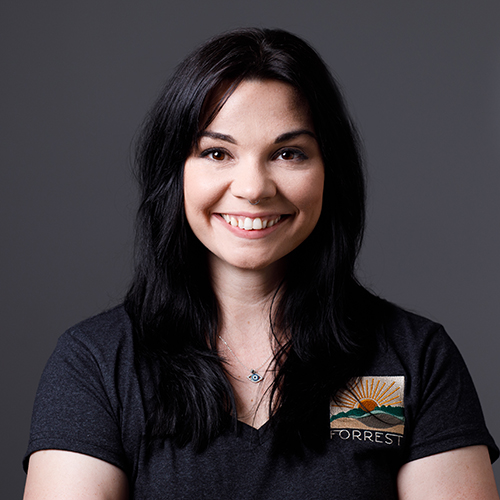 Julie McGuire
Massage Therapist
Julie strongly believes in the physical, mental, and emotional benefits of massage therapy. She wants to create a safe space for everyone to feel comfortable. She wholeheartedly believes that massage therapy can help ease the mind, body and spirit. She has several specialties including SRT (soft-stretch release technique). Her favorite treatment at Forrest is The Restore, which combines deep tissue massage along with stretching for the ultimate relief. Outside of work, she loves spending quality time with her family, going to concerts, running, and gardening.
Morgan Suit
Massage Therapist
Morgan is passionate about helping others. She became a Massage Therapist to help people relieve stress and manage pain. Her favorite treatment at Forrest is The Rest because it provides relaxation and balance to the mind and body! Outside of work, her favorite hobby is walking on the beach and finding sea glass.
Ashley Sharp
Owner
Ashley is the visionary behind Forrest. She has been an essential oils educator and entrepreneur for 10 years. She always dreamed of opening a space for people to rest and restore. Now she enjoys seeing the change in people after a treatment at Forrest.  Guests often arrive anxious or even feeling guilty about taking the time for themselves and they leave looking so refreshed and excited about what they experienced.  It's so rewarding. She loves spending time with her husband, Anthony, and 2 kids. One of her favorite memories is when they all went to Scotland a few years ago! They would love to have a second home there someday so they can make special memories there every year.
Jenna Beard
Owner
Jenna has been an entrepreneur and photographer for over 10 years and loves bringing her creative passion for photography and marketing to Forrest. She jokes around that she's had massages all over the world (she really loves them!) and believes strongly in the benefits. Her favorite treatment is The Restore, because deep tissue massage is the best. She is also a wedding photographer with her husband, Michael, and mom to a sweet baby girl. For fun, she loves renovating her 1930's Colonial home and sipping on chai tea lattes.
Nina Backes
Owner
Nina has been in the medical field for over 25 years and recently retired from managing a surgical practice. She is passionate about natural ingredients and develops all of the products we use for services here at Forrest. She loves working at the front desk and always makes guests feel special and cared for. She is enjoying retirement with her husband of 38 years, David. Her favorite thing is spending time with her daughters, their husbands and her three grandbabies!  She also loves coffee, cooking and baking.